Announcements
New Add-On Providers - Okendo & Influencer.io
In our continuous effort to enhance the agnoStack Provider ecosystem, we're excited to announce two noteworthy new "Add-On Providers". We have now added support for customers using Okendo (Marketing Provider), and Influence.io as a new Loyalty Provide. This further improves agent efficiency by adding additional customer data directly inside of Zendesk to enhance your agent's 360 view of Customer activity.
The agnoStack Premium Tier unlocks tremendous increased efficiency for agents - including our Customer Insights and the recently launched Customer Timeline features which enable displaying enhanced customer data from the above Add-Ons (and many others). All Add-On integrations are available as at no additional cost to connect when managing your account.
New Features
Elastic Path Composable Commerce
Our integration with Elastic Path Commerce has been further enhanced in this most recent release brining several core agnoStack features available across other commerce platforms to now extend to Elastic Path customers.
Custom Line Item Prices:
We recently added the ability to
modify/override pricing
for line items, and have now unlocked this feature for Elastic Path Commerce retailers. Agents can now set a custom line item price during the cart creation process utilizing the Elastic Path built-in "
custom discounts
" functionality.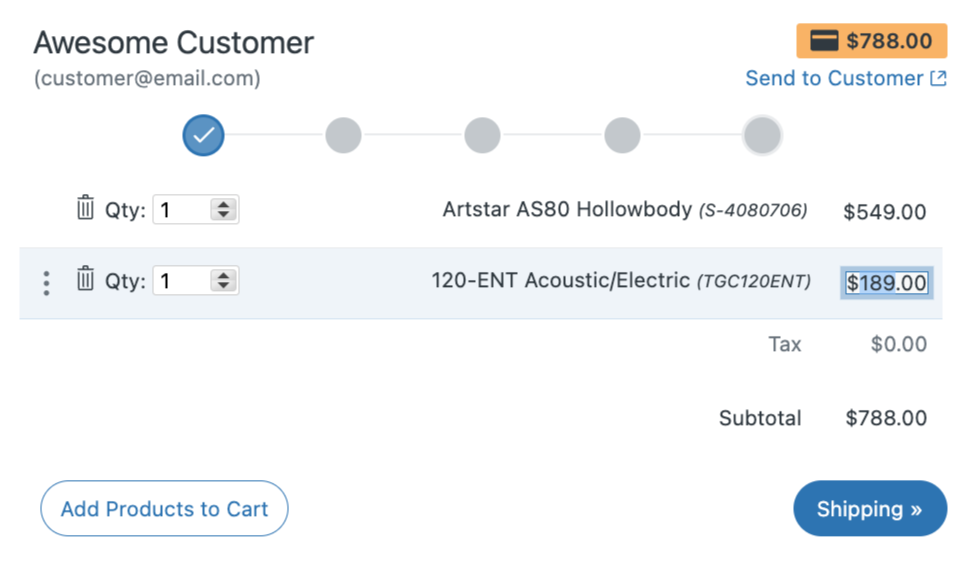 CartCollabSM: Building upon our existing "CartCollab" functionality, we've now extended this functionality for customers running Elastic Path as their eCommerce Platform. Orders can be complex and some customers just need a little bit of extra help to complete their purchase. CartCollab allows agents to quickly create new carts, modify existing carts - adding/removing items, and enter or modify shipping and billing information and allows an agent to seamless share it with customers to securely complete payment directly on your storefront.
Shipping Groups: We have enriched the Shipping details panel by integrating Elastic Path's new BETA "Shipping Groups" API. This functionality allows for the segregation of order items into distinct shipping groups, each with common shipping elements defined at the group level - a useful feature for managing separate delivery addresses, tracking details, delivery methods, or shipping prices for different sets of items.
Advanced Data: We've finally enabled our "Advanced Customer Data" and "Advanced Order Data" capabilities for Elastic Path customers. This builds upon Elastic Path's significant functionality to extend all core data types through their Flows functionality, now making that data directly available to your agents within Zendesk!
Fixes/Enhancements
Modify Shipping Address
This release includes minor enhancements to our Order Modification functionality. For specific Commerce Providers, we've now enabled the modification of "core" shipping address properties such as name and street address that can be updated prior to shipping without affecting tax/balance price. This update is included for retailers leveraging BigCommerce, Elastic Path and commercetools platforms.
Shipping Options - UI Enhancements
We've made some small enhancements to the Enterprise Checkout(Quick Re-Order/Order-On-Behalf) functionality, particularly focusing on Shipping Options. This release streamlines the address entry process to ensure shipping carrier rates are only fetched when a valid address has been entered or selected.
Extended Data & Advanced Customization
Building on our recent announcement of the Early Access (EAP) release for "Extended Data & Advanced Customization", we are continuing to enhance this functionality, bringing it closer to general availability in the coming weeks. This feature is a game-changer for retailers wanting to extend agnoStack by integrating custom/external data not natively supported by their core commerce platform. The new enhancements allow for a richer representation of Customer and Order Advanced Data, Advanced Insights, and Timeline Events within agnoStack.
This new Early Access Program (EAP) is available at no additional cost for retailers running on our Enterprise Tier by requesting access via support@agnostack.com. To learn more about our advanced customization capabilities, powered by Elastic Path Composer, please reach out to info@agnostack.com or scheduling a demo.
Bug Fix - Klaviyo
We've fixed a recent temporary issue with the Klaviyo Add-On Provider that had been causing recent intermittent loading issues due to a breaking change in the Klaviyo API. If you are still experiencing any issues, please contact support@agnostack.com.
We are committed to providing the most comprehensive and user-friendly experience for retailers of all sizes and your feedback is invaluable in helping us improve. Please don't hesitate to share your thoughts on this release or provide suggestions for future updates and time. Thank you for being a part of the agnoStack community!