Choosing an Adobe/Magento Zendesk Connector will play a vital role in how efficiently your help desk agents can provide support. Whether it's customers asking where their orders are, why their payment has been declined, or even customers wanting an order refund, we've got a simple guide the help choosing the right Adobe Commerce/Magento 2 / Zendesk Service Connector.
Adobe's Experience Cloud provides seamless integration for retailers to develop incredible customer experiences for Commerce.
agnoStack
adds an incredible layer of seamless eCommerce functionality into
Zendesk
to drastically improve your
post-purchase experience
.
What is a Magento Zendesk Connector?
A Magento / Zendesk Connector integrates your existing Magento 2 eCommerce store with your Zendesk Customer Service to provide better omni-channel support.
Utilizing a connector allows support agents using Zendesk to quickly obtain information from their Magento 2 provider such as order history, order details, shipping and payment status without ever leaving Zendesk. With some connectors (such as agnoStack), agents are also able to leverage their Service platform to also be an extended sales platform where orders can even be modified, created or captured.
The more efficiently agents can support customers results in increased throughput of customer tickets, accuracy of information, and better customer loyalty.
Top Magento 2 Zendesk Connectors Comparison
The most commonly selected Magento / Zendesk Connectors include a wide spectrum of great options including the following four most popular solutions:
Pricing
One of the first major differences across the four common connectors is pricing. The first question many retailers asks is whether the solution supports a free trial, then it's quickly followed up by "What will it cost me to get onboard?". In addition to base pricing for the initial install, there's also a wide spectrum of options that include everything from dynamic monthly pricing based on usage to fixed one-time or annual licensing.
agnoStack
Our best-in-class Magento 2 Zendesk integration has dynamic subscription plans where the cost per agent starts at "less than a cup of coffee" (in most cities) and scales up or down each month based on how many agents you actually need! You can have your agents up and running in a matter of minutes improving your post-purchase experience. The available features for your help desk agents are determined by your selected subscription tier. At anytime, you can change your subscription tier and new features will be instantaneously available to all agents within seconds.
agnoStack also offers a 14-day free trial and typically releases new features every few weeks at no additional cost. You can also avoid much of the complex IT overhead for initial installation and setup required to get the other solutions set up. agnoStack provides a true SaaS (Software-As-A-Service) model that provides infinite scalability as your agent footprint and required functionality expand.
Potato Commerce
The Potato Commerce team offers a solid mid-level connector that supports much of the basic functionality needed to support a small to mid-size eCommerce store. For a one-time payment ranging from $99 to $599 (based on both your Zendesk Plan and Magento 2 Edition).
The base price of the connector is just for the software itself and does not include the time needed to install the extension to your Magento server. If your Magento 2 version is the Community edition, no additional cost is added to the cost, but if you are on the Enterprise edition, expect an incremental $199 added to the cost.
The features available for your agents are a fixed one time set - unless you go through a timely (and often error prone/expensive) update process. Potato Commerce does not currently offer any trials for their connector but do offer both a Front End Demo and Admin Demo.
Potato Commerce rarely releases new features as a physical upgrade is required in order to enable any new functionality.
Wagento
The Wagento connector offers an introductory-level set of features for a flat one-time payment of $99.
Wagento does not currently offer any free trials for their connector and initial setup requires physical software to be manually installed on your Magento server in order to get up and running.
Classy Llama
Classy Llama offers a very basic-level connector, typically for small retailers, but it is available at no upfront cost to customers specifically on the Zendesk Suite plans (or customers on legacy Support Teams and above plans).
The biggest differentiation in pricing models is often the ability to easily upgrade/downgrade features any time as your business scales. agnoStack provides the industry's only
flexible pricing model
that works with retailers to scale with your business from "day 1 to day 100".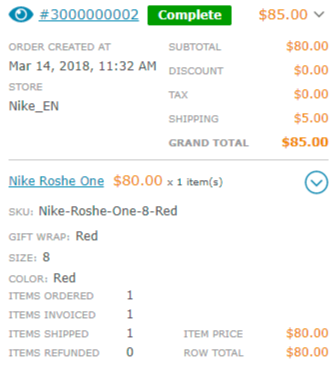 Wagento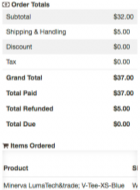 Features
Choosing a Magento Zendesk Connector that has the functionality your agents need to provide truly differentiated experience is of the utmost importance. All connectors discussed here provide access to the following basic functionality:
Order Item Details (product name, sku, price, quantity, row total)
Shipping Address / Shipping Method
agnoStack's functionality has been honed based on 20+ years of industry expertise working with retailers large and small. It is hyper-optimized to improve agent efficiency and enhance your customers' experience right out of the gate from day one.
Order History/Lookup
When responding to a customer's request, an agent is trying to find the order a customer needs help with as quickly as possible. Most platform allow an agent to typically one find the customer's orders by their associated email address.
For Classy Llama, Potato Commerce, and Wagento, help desk agents must create or find a Zendesk ticket associated with the customer's email address to see the customer's orders.
With agnoStack, agents can still search for orders tied to an email even if the associated email address is different than the support ticket without having to create or find a ticket. We have keystroke level instant access to sort, page and filter through hundreds of orders for each customer within seconds. agnoStack also adds the ability to quickly search by email address, search by name as well as lookup orders by number even without knowing the customer's email!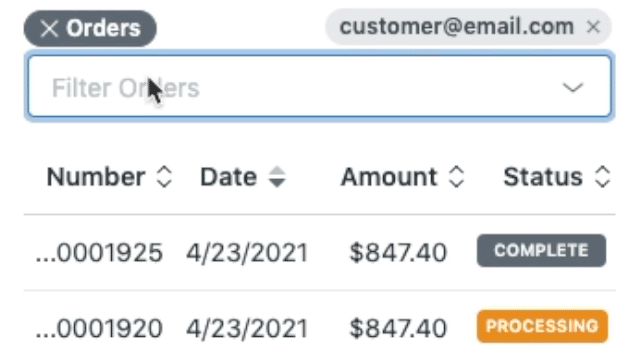 Shipping & Payments
After an agents finds the order a customer needs help with, then they're typically looking for some very common things: "Where's my order?" or "Why doesn't my credit card work?".
While nearly all connectors provide limited (or no) ability to even search for orders the way an agent needs, the agnoStack plugin gives your agents direct access to real-time shipping & payment status as well as the ability to pin an order to a ticket to save it in case the issue needs to get escalated or they need to get to a customer at a later time!
NOTE: All connectors except for Classy Llama display Order Status.
Order Details
Other common items an agents may use for support include detailed line item order contents, inventory and catalog data. agnoStack is the only solution that brings in rich catalog data including all options, modifiers, variations, engraving and more right into the Order Details screen.
Accessing Order Notes and Order Events can help an agent quickly see the context of what's happened before a ticket has been created. Potato Commerce and Wagento do not provide Order Notes and Order Events, but both agnoStack as well as Classy Llama do!
agnoStack provides the industry's only completely unified Order Timeline containing a rich history of all Order, Payment, Shipping as well Ticket related events in one single chronological view.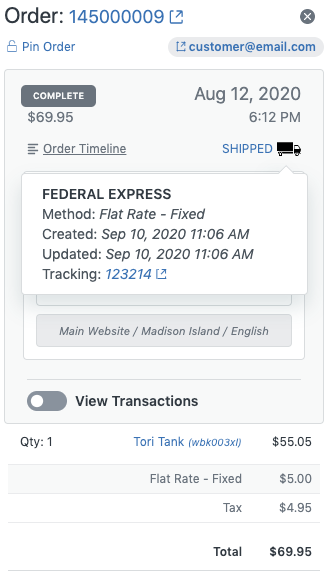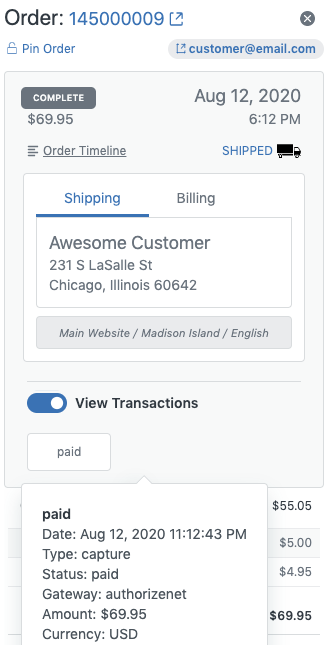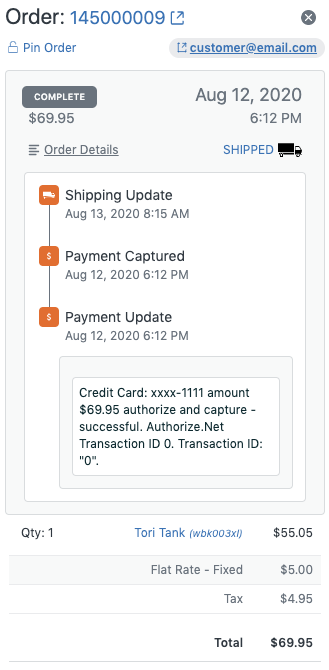 In cases where a customer requests to cancel or refund an order and then wishes to create a new order, agnoStack is the only connector where any of these actions are possible. This feature is especially important for retailers who want their service platform to also be a sales platform by having write access to their eCommerce provider.
Order Capture/Rapid Re-Order
agnoStack provides the only enterprise-class set of functionality allowing you to turn you customer support function from a cost-center to a profit center. We allow your agents to perform a rapid re-order or a new order on-behalf of (order capture), accessing your full product catalog to provider a fully PCI-compliant checkout flow available directly within Zendesk!
Advanced Features
While several of the Connectors provide basic Shipping Method and Tracking number, only agnoStack provides single-click access to real-time shipping status, the ability to update the shipping address of an unshipped order, the ability to process order-level and line item level, as well as custom order and shipping refunds without ever leaving Zendesk.
In addition, we've recently launched our new Advanced Macros feature, where agents can now create and save personalized responses containing dynamic placeholders including data directly from your Commerce, Shipping and Payment platforms. Similar to Zendesk's built-in placeholder functionality, but including the data your customer's really need!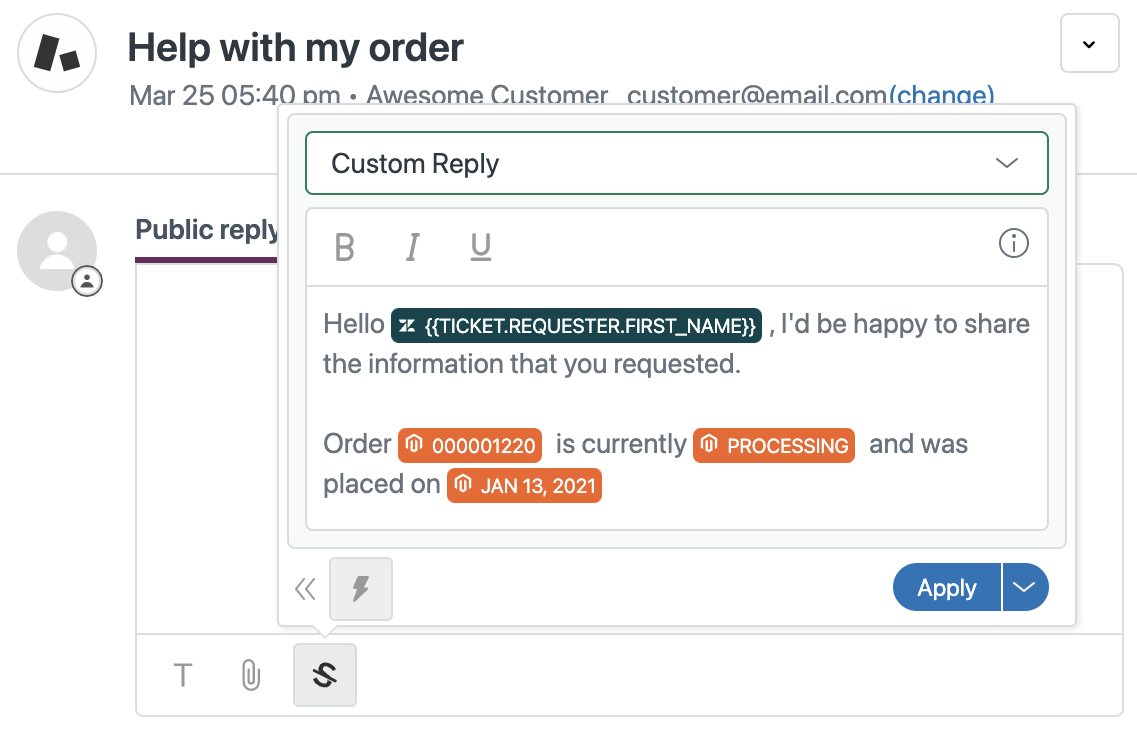 The Verdict
At the end of the day, choosing the best Magento 2 Zendesk Connector for your business will depend on your desire to provide a truly exceptional end-to-end customer experience. Our incredible return on investment, can provide you with the ability to make you agents' lives easier within minutes...and happier agents make happier customers!
Are you looking for the most feature-packed, easiest to set up, infinitely scalable connector? Then agnoStack is your winner!
Contact us at sales@agnostack.com or Schedule a Demo to learn more.