Announcements
We are excited to announce a significant enhancement for our customers using commercetools as their commerce platform. With this update, we are enabling our amazing suite of Enterprise capabilities, building on top of our existing support for our Starter, Professional and Premium Tiers.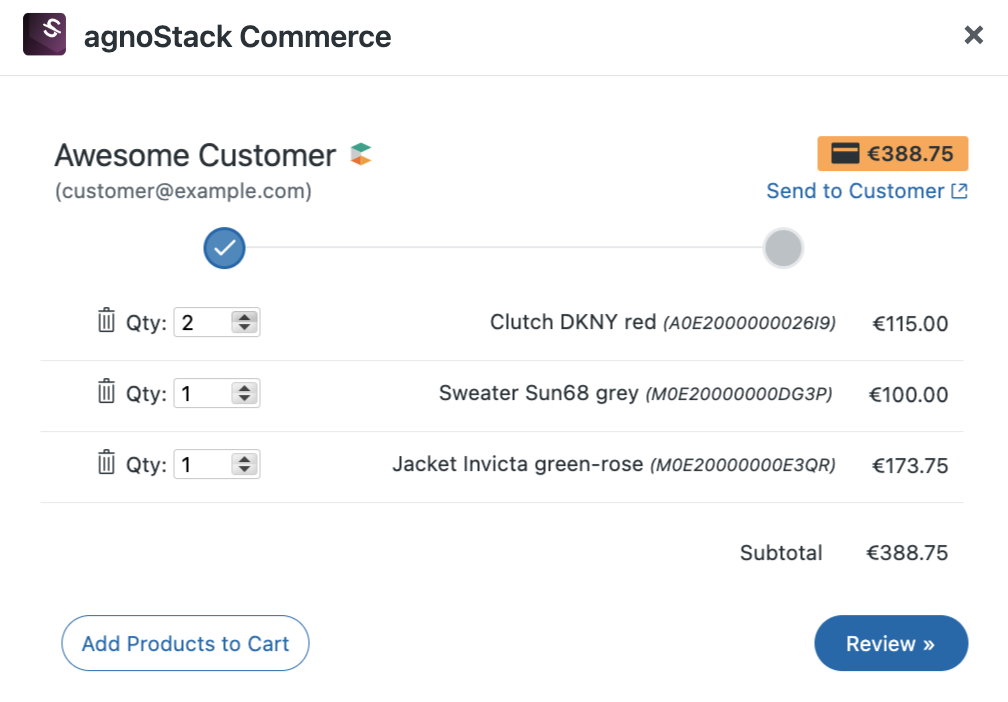 This significant addition, enables subscribing to our Enterprise Tier which comes bundled with Partial and Custom Refund options, Advanced Order Metadata and Customer Metadata, Advanced Reminders and introduces our ingenious CartCollabSM feature to commercetools retailers using Zendesk Commerce.
Customer service agents can now effortlessly create and share Shopping Lists with customers, either by generating a new list from scratch or by replicating an existing order. This enhanced functionality facilitates a more seamless and efficient agent/customer interaction, taking our integration with commercetools to the next level. Additional updates to support or full CartCollabSM functionality allowing agent assisted sales to share Draft Orders will be added to our commercetools Enterprise Tier in coming months.
AI for Commerce - Google PaLM2
We're not stopping here! Building on the success of our recently released AI for Commerce integration with OpenAI/ChatGPT, and coming out of the annual Zendesk Relate conference just a few days back, we're thrilled to share that we're adding additional 'AI for Commerce' capabilities to further build on the new Zendesk AI capabilities announced.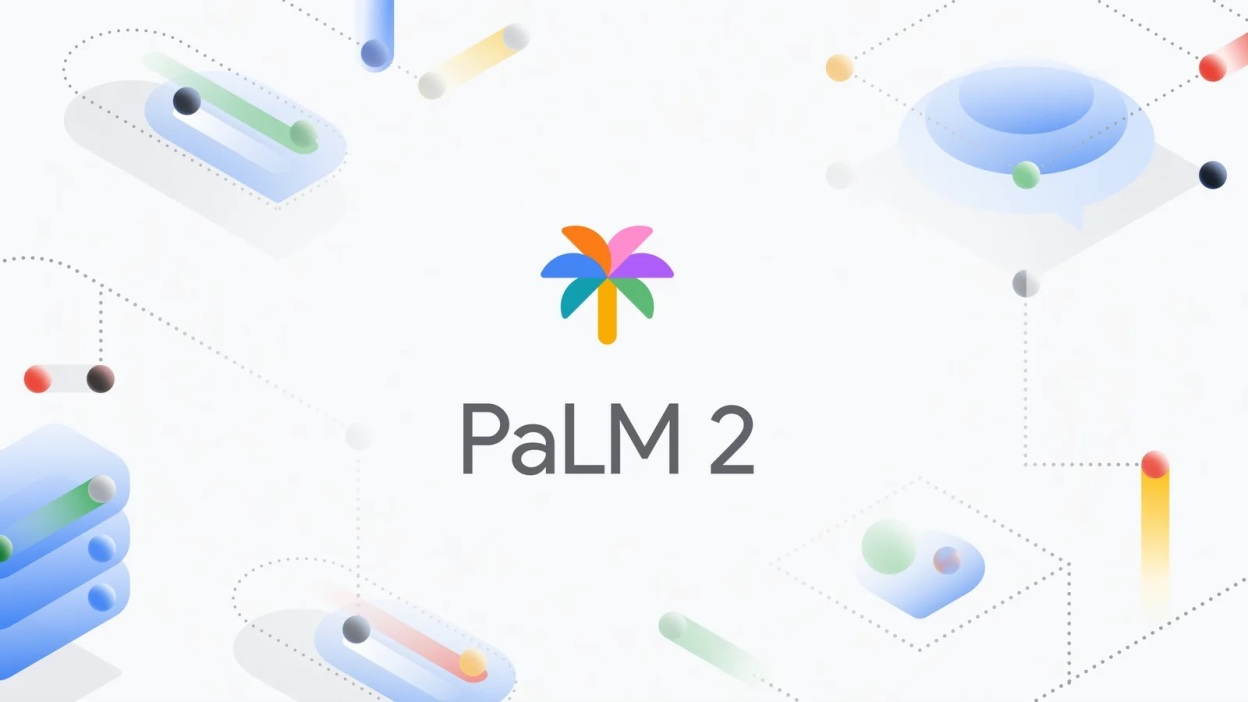 Zendesk announces powerful new AI integrated across the full Support Suite, designed exclusively for intelligent CX. We're thrilled to share that directly coming out of Google's annual Google I/O conference on the same day as Relate, we've now added support for the BRAND NEW Google PaLM 2 AI Provider - as a second of many exciting additions to our suite of 'AI for Commerce' capabilities. Stay tuned for more updates on this front!
New Features
Customer Timeline
Based on the tremendous feedback from our valuable customers and building on top of one of our most widely used features (our Advanced Order Timeline), we're incredibly excited to unveil our brand new Customer Timeline adding significant visibility for an agent to all Marketing, CRM and Loyalty related activity for a customer.
The new tab, available within our Customer Insights modules, integrates events from our extensive range of third-party Add-On integrations such as Klaviyo, Mailchimp, Hubspot, Yotpo - and many more to come.
This adds a consolidated and detailed picture of your customer interactions, all in a single unified view. This will enhance agents' ability to understand and serve customers more efficiently.
We will continue to add support for events from additional Providers including Salesforce, Microsoft Dynamics, Zendesk Sell, Smile.io, Stamped, LoyaltyLion and others in coming months!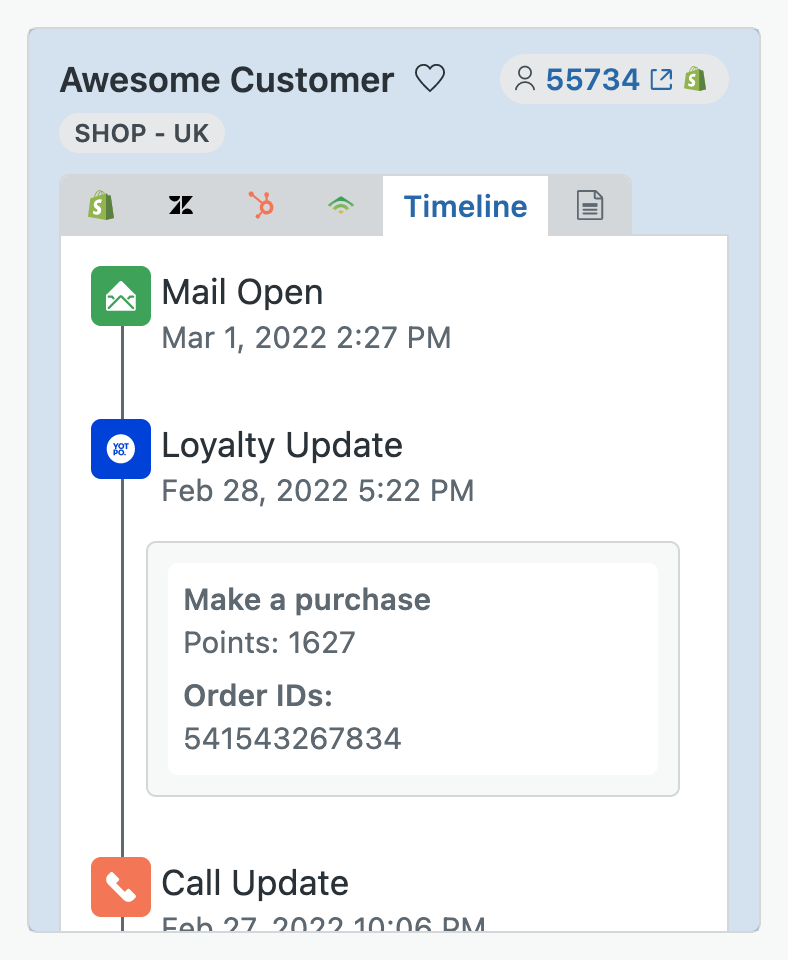 New Add-On Marketing Providers - DotDigital and Cordial
We're delighted to announce the release of two new integrations in our Add-On Provider ecosystem after requests from several existing customers (and new prospects). Today we are adding support for retailers using DotDigital and Cordial for their Marketing platform. These new additions further expand our support for all of the industry leading Marketing Providers within the agnoStack platform.
Our Premium Tier unlocks tremendous increased efficiency for agents - including our Customer Insights feature which enables displaying enhanced customer data from the above Add-Ons (and many others) which are all available as free additional connectors when managing your account. If you are using a platform that we do not have an integration with, please let us know by contacting support@agnostack.com.
Fixes/Enhancements
Ticket Snippet Products Share - Magento 2 & commercetools
We're dedicated to constantly refining our features for an optimal agent experience. As part of this commitment, we've enhanced our recently launched Macro Snippets feature, designed to allow support agents to quickly search the product catalog and insert product images and links into ticket replies.
We're excited to announce that this feature now extends support for Magento 2/Adobe Commerce and commercetools.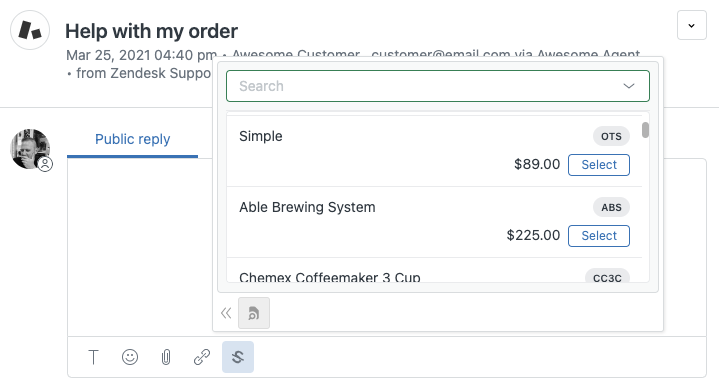 CartCollabSM - Customizable Messages
We're taking our CartCollabSM feature a notch higher. Now, brands have the ability to craft custom replies containing the link to the cart, adding a more personalized touch to the interaction. For brands wishing to enable this functionality or to learn more about this feature, please reach out to us at support@agnostack.com.
AI for Commerce - OpenAI/ChatGPT
In the spirit of continuous improvement, we have made multiple enhancements and fine-tuned various options in our OpenAI/ChatGPT integration. These tweaks have significantly improved the output of responses, making the tool more precise and efficient.
We're excited about these new features and improvements and hope they will aid your support teams in delivering an even more exceptional customer support experiences for both your agents and your customers. As always, your feedback and suggestions are invaluable to us. If you have any questions or need further assistance, please don't hesitate to reach out to to us at support@agnostack.com.