Announcements
Microsoft Dynamics 365 - Business Central
We are excited to announce the addition of one of the most requested Add-On integrations from customers across all eCommerce platforms. Today we are adding support for Microsoft Dynamics 365 Business Central as a new CRM Provider!
Our Customer Insights feature, available to brands subscribed to our Premium Tier (and above) enables displaying enhanced customer data from your Microsoft Dynamics CRM - as well as many other Add-On Providers & Integrations, which are all available as free additional connectors when managing your account.
New Features
Customer Watchlist - Ticketing
We recently announced upcoming support for our Saved Customers Watchlist where agents can save Customers from your Commerce Platform to their personalized Watchlist, allowing them to easily identify, watch and group relevant customer (New Customers, VIP/Repeat Buyers, etc.) activity.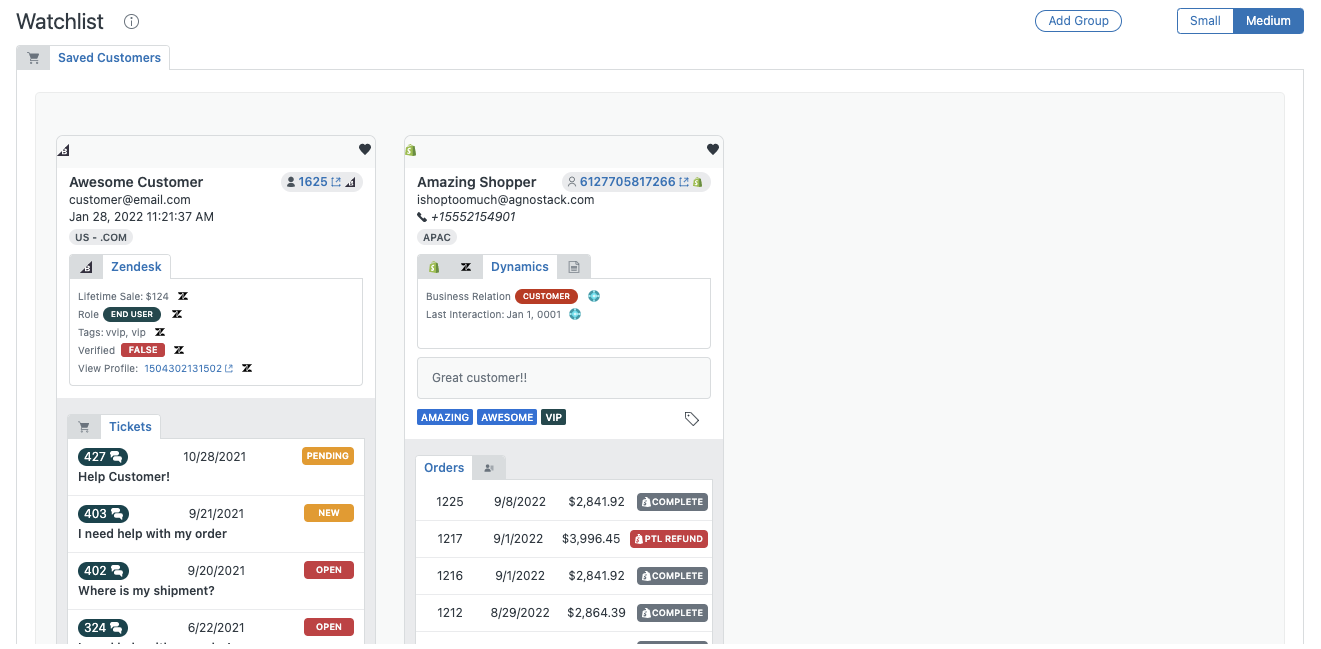 This release further enhances one of our most useful features to now allow agents to not only see customer and order data, but also to see all related Tickets within their heads-up Watchlist.
Advanced Customer Data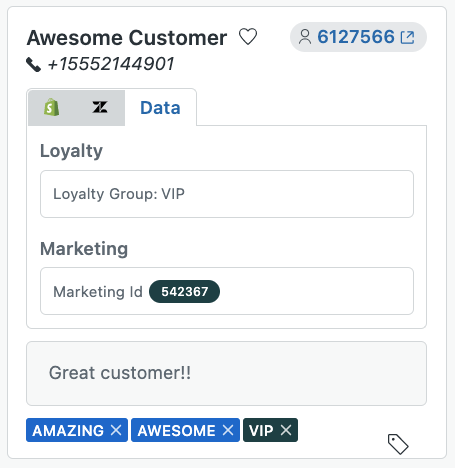 As we continue to introduce additional data and insights into agnoStack overall (recently introducing new Advanced Order Data), today we are adding Advanced Customer Data to complement our Customer Insights functionality.
This new panel within the Customer Insights screen will surface customer related metadata that has been added within your commerce platform.
This feature is now included for all customers running Shopify or BigCommerce who are subscribed to our Enterprise Tier. We will continue to enhance the Customer Data panel with support for additional commerce platforms in coming months!
Zendesk Customer Insights
We recently introduced the "UI Enhancements" to our Customer Insights feature, adding the ability to connect multiple Add-On Providers into a single, unified view of your customer's data.
As part of that feature, we support bringing in data from your many platforms including: Loyalty, CRM, Reviews and much more. You can configure additional Add-On Providers to enhance your agents visbility into core customer data.
Today, we've further enhanced the Customer Insights functionality to now surface additional data directly from Zendesk Support. This feature is available without requiring any additional configuration and setup!
We will further enhance this Zendesk Support customer insights to include ticket related data in coming months. Note, we also support Zendesk Sell as an additional free Add-On connector for customers who may be using it as their CRM provider.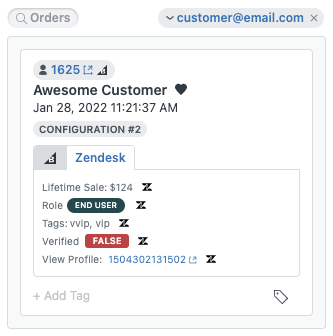 Fixes/Enhancements
Configuration Bug Fixes
We fixed a minor issue affecting configuration of PayWhirl and ReCharge as Add-On providers for customers using our standalone BigCommerce for Zendesk or Shopify Premium applications.
Several customers had reported challenges in setting up these providers while configuring one of our standalone apps; these issues have now been resolved.
COMING SOON!
Advanced Returns Management
We will be introducing our next upcoming EAP around Advanced Returns Management, beginning with customers on our Enterprise Tier who are using Shopify as their eCommerce platform. To learn more, please contact support at support@agnostack.com.
Narvar Add-On Provider
Our existing set of Order data and insights functionality will soon be expanded to support richer Refund and Returns Management functionality. As part of that update, we will be further expanding our Add-On integrations to support retailers using Narvar. To learn more about the upcoming launch (and/or to request access to our upcoming Narvar EAP), please contact the team at info@agnostack.com.