Announcements
Magento 2 - Brand New App!
We're incredibly excited to introduce the newest addition to our suite of standalone Zendesk apps. Our latest standalone app provides functionality specifically tailored for retailers using Adobe Commerce/Magento 2 and makes installation and setup easier than ever.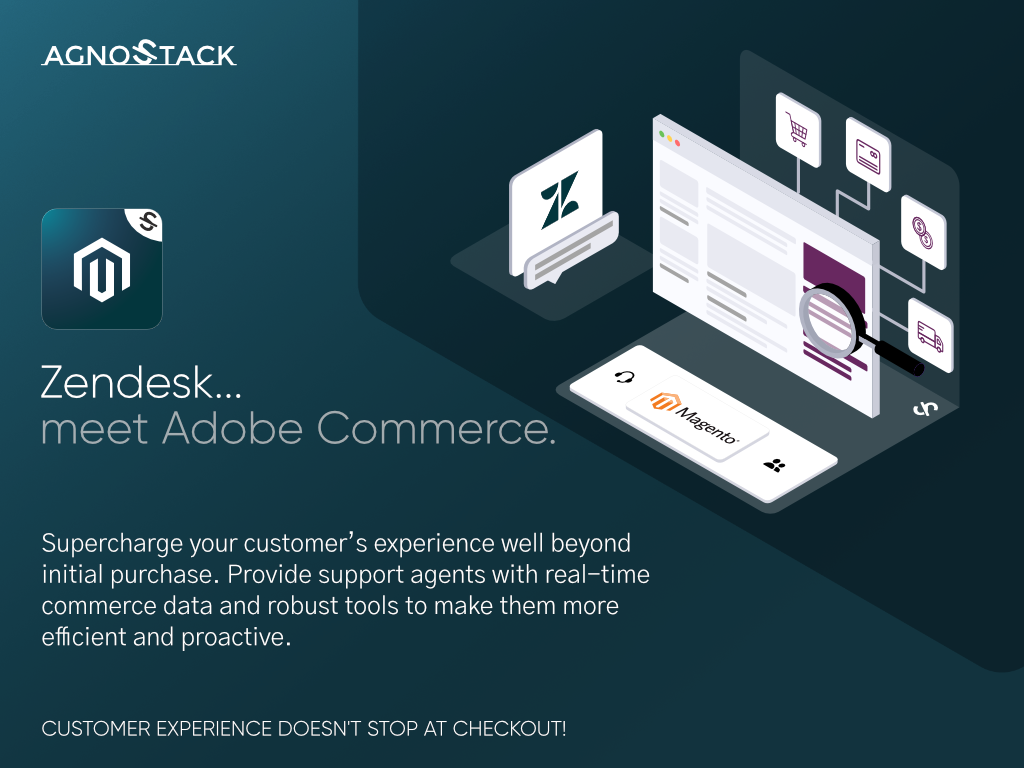 This plugin includes all of the existing agnoStack platform capabilities, including our multi-configuration functionality, which enables retailers operating multiple Magento 2 brands/sites/storefronts to connect them all to a single agnoStack instance. This feature provides a comprehensive view of the customer across all brands, streamlining your customer support process.
The new app can be installed directly from the Zendesk marketplace. It provides easy migration for customers coming over from the legacy Classy Llama or PotatoCommerce apps. For additional questions, or to get a demo of the new Magento2 capabilities - please reach out to support@agnostack.com.
New Features
New Add-On Marketing Provider: Bloomreach
After several customer requests, we're proud to introduce support for retailers using Bloomreach as their Marketing platform. This addition further expands our support for the industry's leading Marketing Providers natively within the agnoStack platform (available at no additional costs).
Our Premium Tier unlocks tremendous increased efficiency for agents - including our Customer Insights feature which enables displaying enhanced customer data and events from the above Add-Ons (and many others). Our Add-On connectors can be set up directly within the Managing Your Account screen.
We continue to add new Add-On providers and integrations with every agnoStack release; if you are using a platform that we do not have an integration with, please let us know by contacting support@agnostack.com.
Magento 2 Advanced Search
By popular demand, we now offer the ability to do Advanced Order Search by phone number for retailers using Magento 2. This functionality has been available across other platforms via agnoStack, but we've now overcome a known limitation of the Magento 2 API and created an open-source free Magento Extension that can be installed on your Magento 2 server to include a "Search by phone" API endpoint.
The Magento Extension can be found at: https://github.com/agnostack/magento-search-orders-by-phone. If you're interested in enabling this functionality, please contact us at info@agnostack.com. We welcome community enhancements to the project and look forward to collectively enhancing our Adobe Commerce capabilities.
Fixes/Enhancements
AI for Commerce - OpenAI/ChatGPT
In response to recent enhancements to the core OpenAI/ChatGPT platform, including the release of the GPT 4 API, we've updated agnoStack to support GPT 4 as our default model for all our "AI for Commerce" chat interactions. The model selector is available when configuring your AI provider, allowing you to choose between GPT 3.5 and GPT 4.
Following feedback from several commercetools customers, we've added the ability to configure the display of prices inclusive or exclusive of tax within the Order Detail panel. This option has been available with other Commerce Providers but can now be configured when setting up your commercetools Provider inside of the Manage Your Account screens.
Order lookup without email (BETA)
We're testing out a new feature that allows matching of customers in your commerce platform even when the Zendesk Ticket Requester may not have an email address. This feature is currently available via EAP as part of our BETA program, but will be coming generally available to supported platforms in coming months.
COMING SOON!
Elastic Path Integration Provider
Looking ahead, we're thrilled to be close to launching a capability to extend agnoStack and bring in your own extended Customer and Order data as well as timeline events. These new capabilities will be made available through Elastic Path's new Integration Hub/Composer and made available within agnoStack as a new Add-On Integration Provider. This will be a game-changer for retailers wanting to leverage custom/external data not natively supported by their core commerce platform. The Elastic Path data connector will allow a retailer to configure a custom Flow that the agnoStack platform can communicate with.