Monday Mar 30, 2020
Announcements
Introducing General Availability for Magento 2!
We're happy to finally announce our support for customers using Magento 2/Adobe Commerce Cloud. This extends our existing agnoStack support for Magento 1 customers with the new M2 version supporting using a built-in Shipping Provider, making use of the shipping configuration you've already set up in Magento.
The new Magento 2 provider currently supports our Starter and Professional subscription tiers, with upcoming support soon to be released for our Enterprise tier.
For instructions on how to configure your Magento 2 integration with agnoStack (including upgrading from Magento 1), please click the logo below or visit our FAQ at: https://agnostack.com/faqs/setup-onboarding/install-configure-your-app/configuring-magento-2.
Magento 2
New Features
"Suggest a New Provider"
We've heard from several customers who love our plugin, but aren't using one of the currently supported Shipping or Payment Providers. Currently during the configuration and activation process, you're forced to select one of the existing available options.


We've now added the ability to activate the plugin without having to select one of those, but also have used this as an opportunity for you to help us influence our integrations roadmap.


If you're not using one of our currently supported providers today, simply choose "Suggest new Provider" and enter in your desired integration (or select one of the existing items from the list) to upvote it on our Roadmap.



Braintree Payment Provider
We've also now added support across eCommerce platforms for customer's who may be leveraging Braintree as their payment gateway.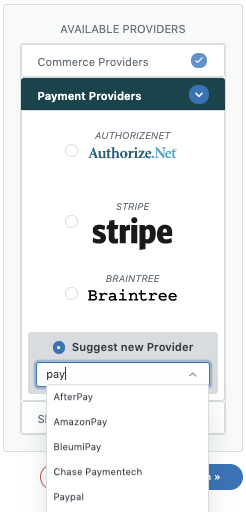 Fixes/Enhancements
Magento 2 Multi-Store
Several customers participating in the BETA have asked for the ability to support multiple stores for Magento 2 via Store Code (as we already support today for Magento 1). This optional feature has been rolled out as part of our General Availability release for M2.